News
Press Enterprise - 08:38 AM PST on Monday, January 19, 2004
UCR's half-century of progress
CELEBRATION: The university is marking its 50th anniversary with a variety of events.
By Marisa Agha / The Press-Enterprise
RIVERSIDE - On a February day 50 years ago, 127 students and 65 professors trudged through rain and mud to launch the newest University of California campus in Riverside at what is now University Avenue and Canyon Crest Drive.
"There was a sense that, 'Yes, we are embarking on something,' " said Frances Carney, longtime political science professor who was there Feb. 15, 1954. "There was an air of excitement and novelty."
UC Riverside will celebrate its golden anniversary with a series of events during homecoming week, Jan. 22-25. The festivities will include alumni from throughout the decades whose memories reflect the evolving nature of a campus that began as a citrus experiment station in 1907 at the base of Mount Rubidoux. The University of California facility's purpose was to improve citrus quality and production.
In 1917, the station moved to where UCR's Anderson Hall is now.
Days of promise
In 1954, Carney, now 82, was a doctoral student starting his teaching career and was thrilled to be part of a plan for a small liberal arts college within the UC system.
"All those days were full of hope and promise," Carney recalled. "It would be more student- and absolutely undergraduate-oriented compared with UC Berkeley and UCLA. It was to be different."
Back then, Provost Gordon Watkins set out to build his "Swarthmore of the West," referring to the small, highly competitive private liberal arts college near Philadelphia.
Among that first batch of students was Charles Young, a Korean War veteran who was a student at San Bernardino Valley College. He decided to start his junior year at UCR.
"It was a great opportunity to be a part of a dynamic new institution and help build it and shape it," said Young, who went on to become chancellor of UCLA and president of the University of Florida.
Young, UCR's first student-body president, still prizes his time at the university.
"Everything about the Riverside experience had a major impact on my future career and life in general," he said. "Without it, I would not have been able to do the things that I have been able to."
Soon after that first day of classes, other faculty members arrived. In August 1954, Bill and Mary Lee Reynolds moved to Riverside. The late Bill Reynolds was a founding member of the music department and researched the construction of the Carillon Bell Tower, a campus landmark.
"Most of the faculty here in 1954 didn't know much about Riverside," said his widow, Mary Lee Reynolds.
By the late 1950s, UCR already was shifting from the idea of a small liberal arts school. UC President Clark Kerr was preparing his "multiversity" vision for all of the UC campuses. Kerr, a Swarthmore graduate, argued that campuses could no longer think separately.
"Most of us with a sigh of regret, saluted, shouldered our rifles and marched off to join the multiversity," Carney said.
Turbulent times
Like most college campuses, the Vietnam War and social turbulence of the 1960s defined the mood at UCR during those years. Singers including Bob Dylan, Peter, Paul and Mary and Judy Collins performed on campus. Speakers such as Cesar Chavez, Timothy Leary and presidential candidate Eugene McCarthy appeared.
The political climate reached its pinnacle on campus on March 11, 1970 when then-Gov. Ronald Reagan came to see the air pollution research center at Fawcett Laboratory. Student protests erupted with about 300 demonstrators blocking a road to campus, according to a news account at the time. Four students were arrested in the incident, which marked the first time outside police had been called to the campus.
It all began with a speak-a-thon where Daniel McCaffery, then 19, was protesting tuition hikes. McCaffery said he got tired of the talking and urged people who agreed with him to meet him and head across campus to where Reagan was meeting with the Regents.
"We just kind of trooped off out of the speak-a-thon thing," McCaffery said. "As we walked up toward the physical plant, people just started coming out of any sidewalk areas, like they were following the Pied Piper or something. And the crowd just grew and grew."
McCaffery and several others were arrested.
Political science professor Ron Loveridge, now Riverside's mayor, had been invited to the air-pollution lab tour.
"I remember the sounds of the sheriff's deputies coming with their shields on," Loveridge said.
The day marked a turning point for McCaffery, who had left West Point for UCR.
"I got kicked out of the dorm, thrown out and I lost my job at the physical plant all in one fell swoop," said McCaffery, now 53.
After the arrest, McCaffery said he spent several years as a hippie before settling in Missoula, Mont. In 1990, he completed a degree in environmental engineering at Montana College of Mineral Science and Technology in Butte. He now works as an environmental engineer.
McCaffery says he has no bitterness.
"Oh heck, those were the good old days. We were doing something," he said.
Growth and sadness
The 1980s and 1990s marked a time of rising enrollment and growth at UCR. It was also a period of sadness.
Two chancellors, Tomas Rivera and Rosemary S.J. Schraer, died in office. Rivera, the first minority chancellor of a UC, died in 1984. Schraer, the first female chancellor of a UC, died in 1992.
In 1985, the UCR library was officially named for Rivera.
The Los Angeles riots and the Persian Gulf War were dominant events on campus during the early 1990s, recalled Steve Breen, a Pulitzer Prize-winning cartoonist with the San Diego Union-Tribune who graduated from UCR in 1992. Breen remembers watching the Gulf War on television with his dormmates.
"We were all thinking about it in terms of the draft," Breen said. At the same time, Breen said he spent many Friday and Saturday nights studying cartoons and preparing his own.
"I was so focused on what I wanted to do," Breen said.
As the university looks to the future, Chancellor France Cordova says that UCR must embrace its past, but also think ahead to new challenges.
"Those roots are very important because they connect the old with the new," Cordova said.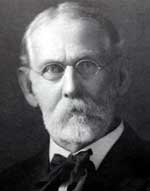 John Henry Reed (above), founder of the UCR Citrus Experiment Station, was also Riverside's first tree warden.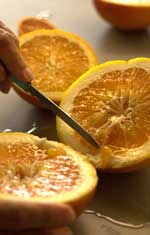 The primary purpose of the University of California facility was to improve citrus quality and production.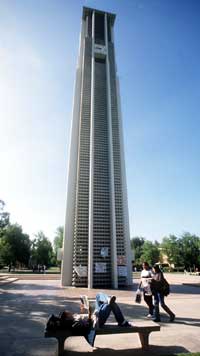 The 161-foot tall Carillon Bell Tower is a dominant landmark at UCR.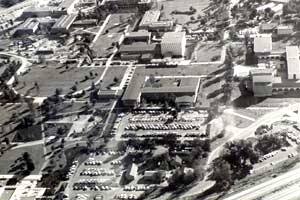 In 1954, UC Riverside officially opened as a general campus of the UC system.